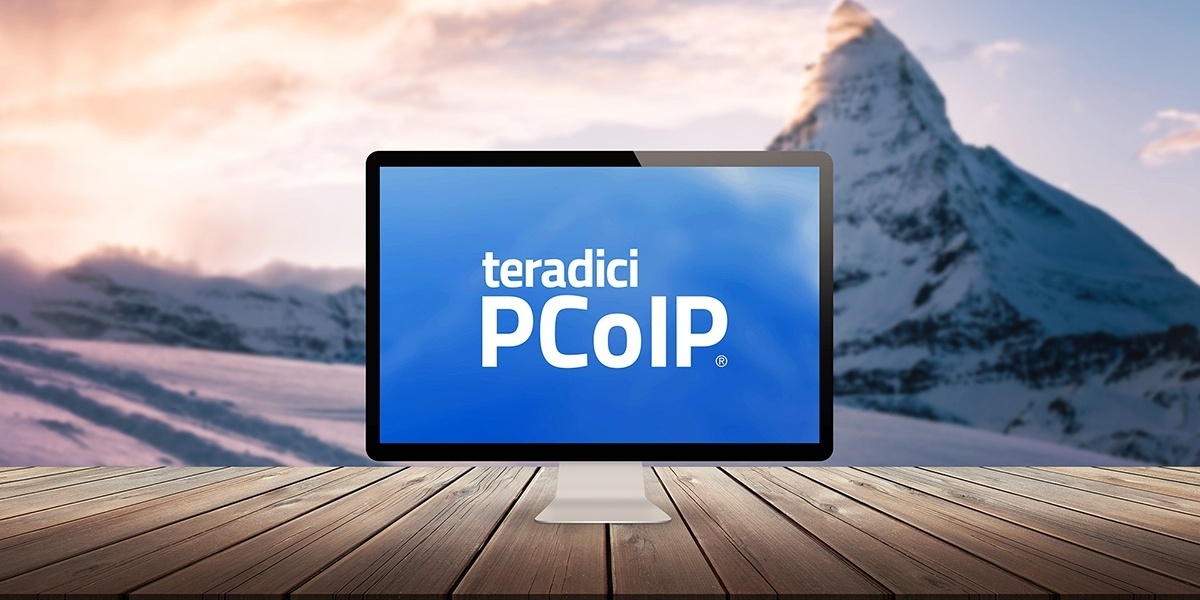 PCoIP Shines for Dynamic & Interactive Desktops
Let's first look at the primary use case where the PCoIP protocol will provide the most value and the richest user experience: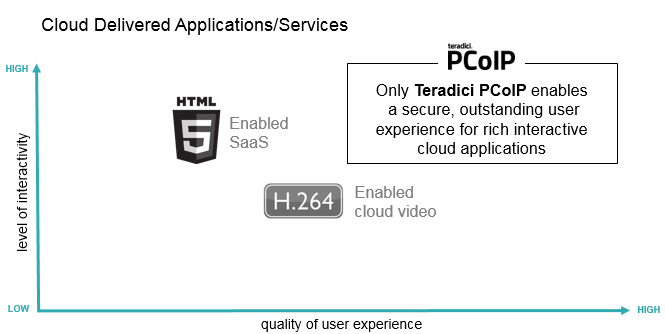 As you can see above, PCoIP really shines when there's a high level of user interactivity and users require a rich experience. Surfing the web, creating and editing content (from documents to video effects) or simply navigating the various apps and windows on your desktop are examples where user interactivity is high and a great user experience is a must to ensure productivity isn't compromised.
The PCoIP protocol automatically delivers the best possible user experience under changing network conditions.
The PCoIP Architecture
The key architectural elements of the PCoIP protocol can be broken down into four areas:
Optimized multiple codecs.
Compression algorithms are optimized for all kinds of images including static, complex or natural images. The PCoIP protocol dynamically chooses between codecs, frame rate, and image quality based on available bandwidth.
Adaptive UDP-based networking.
The PCoIP protocol automatically delivers the best possible user experience under changing network conditions.
Host rendered pixel encoding.
All pixels are encoded in the datacenter keeping user data secure and enabling OS and application independent architecture.
High-performance, truly lossless imaging.
PCoIP codecs are designed for lossless support which is important in high-performance industries such as media & entertainment, healthcare, and oil & gas. Lossless support is also used to encode other image formats like text to ensure crisp & clear readability.


These architectural elements and the breadth of supported environments make the PCoIP protocol ideal for on-premises VDI desktops, DaaS or cloud desktops, remote workstation or GPU-powered desktops, and cloud delivered workspaces and solutions.
For example, the PCoIP protocol is used in several Teradici Pervasive Computing Platform-based solutions such as Amazon WorkSpaces, VMware Horizon View, and PCoIP Workstation Access Software. Microsoft recently showcased PCoIP being used to deliver GPU applications from the Azure cloud at the Build 2016 developer conference!
The PCoIP ecosystem (including over 2.5 million zero clients) serves the needs of knowledge workers, security conscious users and the most performance demanding users.
PCoIP: A History of Innovation
Over the past decade, Teradici has continued to innovate in order to ensure that the PCoIP protocol architecture can support efficient encoding and decoding with BOTH software and hardware platforms. This has created a unique ecosystem of solutions that can service the needs of knowledge workers, security conscious users and the most performance demanding users.
These solutions include:
• Desktop and graphics PCoIP software agents for VDI and cloud desktops.

• PCoIP software clients for Windows, OS X, iOS, Android and ChromeOS.

• Secure, high-performance and easy to manage PCoIP zero clients with over 2.5M PCoIP zero clients deployed worldwide!

• Server CPU offload and hardware acceleration cards (more on that in an upcoming blog).

• Remote workstation cards in use by major media & entertainment and CAD engineering customers worldwide.


Some of the PCoIP protocol enhancements added over the years include:
• Client side caching to reduce bandwidth.

• Bandwidth management enhancements to improve the experience on congested and lossy WAN and wireless networks.

• PCoIP profile settings to enable the most suitable quality level for best power and bandwidth utilization.

• Audio compression enhancements to improve audio quality and reduce bandwidth when using audio output devices.

• Session resume capability to automatically resume sessions when network connectivity is changed or when moving between wireless access points.

• Mobile client user experience enhancements to handle native touch events.

• Intelligent compression of virtual channel data.
PCoIP protocol enhancements are in the works.
PCoIP: Innovation to Remain Future-Ready
Teradici knows the key is in anticipating the needs of users and being agile to the changing technology landscape. We have teams dedicated to continue driving innovation and maintain our commitment in delivering great user experiences for years to come.
Upcoming PCoIP protocol enhancements that are in the works:
• Motion compensation to further reduce bandwidth using an architecture that is independent of the host OS or application.

• New and enhanced codecs to support higher frame rates on constrained networks.

• Wireless network optimizations to further improve the user experience on wireless devices.

• Power usage optimizations to extend the battery life on mobile devices.

• And much more in the works by the PCoIP protocol development team…


Stay tuned!
source: teradici